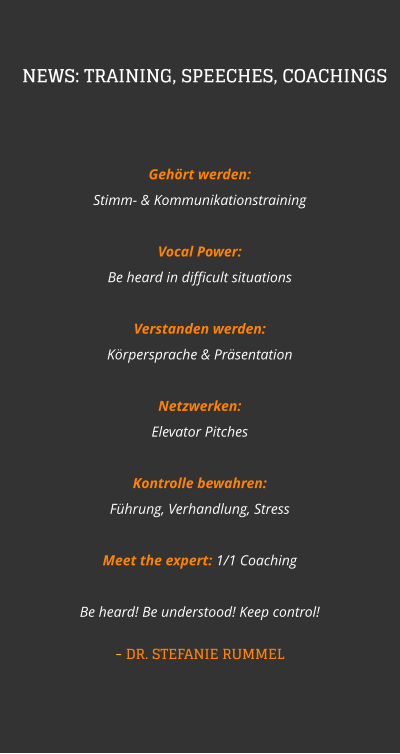 Service
Training, Coaching, Speeches
Online & Offline
Gehört werden - Be heard
Gesehen werden - Be seen
Verstanden werden - Be understood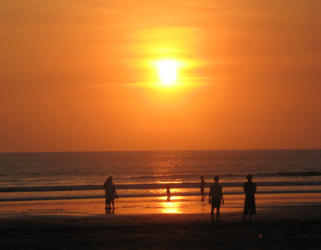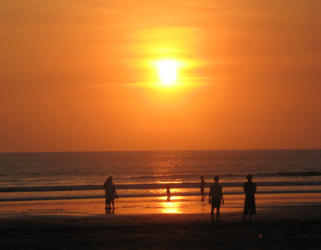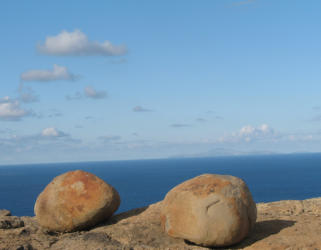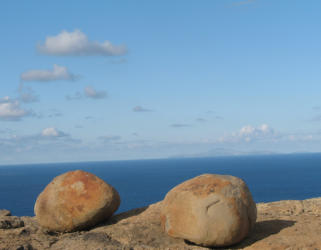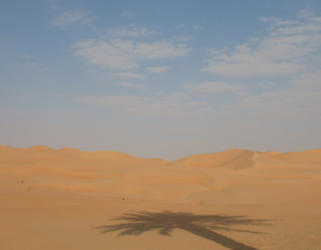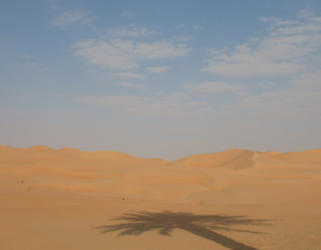 TOPICS
SOFT-SKILLS & KNOW-HOW

LEADERSHIP
Vogelperspektiven vermitteln für Strategien,
Zielsetzungen und dem Erreichen von
Menschen. Sich selbst und andere führen.
Create top to bottom views for more
successful aims, strategies and learn to reach
out to the people.
Lead yourself and then lead others.
VOICE & BODY LANGUAGE
Wissens- und Gedankentransfer gelingt nur,
wenn wir dem Inhalt richtig Stimme geben
und es verkörpern. Training mit Audio- und
Videofeedback.
Knowledge and thought transfer is spread if
we embody the content through our voice,
the right words and our body language.
(Training with audio & video feedback)
COMMUNICATION
Innere Einsichten so verbalisieren, dass wir
sie im unserem Umfeld überzeugend und
klar spiegeln.
Learn to verbalize ideas to mirror them well
in your surrounding clearly
.
Work-Life-Balance
Zeit bewusst einsetzen: Kluge Planung und
Zielsetzung, bewusste Ruhepole!
Use time wisely, Plan well. Set goals and find
time to relax
.
INTERACT
Miteinander agieren und sich verstehen
braucht tieferes Verständnis über
Menschentypen und Interkulturelles.
Understand how and why people interact in
certain ways. Look underneath the surface.
There are so many intercultural and gender
differences.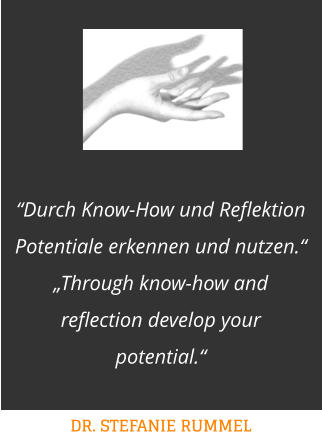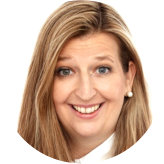 Training, Coaching & Speeches
National & international
Topics
Communication, Presentation, Leading with Voice and Body
Language, Work-Life-Balance, Intercultural
ABOUT
Dr. med. Stefanie Rummel

"

Wir leben alle geistig von dem, was uns
Menschen in bedeutungsvollen Stunden
unseres Lebens gegeben haben.

"
"We all live mentally of what people give
us in important hours of our life."
"On vit mentallement de ce que les gens
donnent dans les heures importantes de
notre vie."
(Albert Schweitzer)
PRESENTATION
Know-how durch gekonnte
Visualisierung, klare Artikulation,
präsente Stimmgebung & körperliche
Präsenz weitergeben.
Spread your know-how through insightful
visualisations, clear articulation, strong
verbal and nonverbal presence.